Principal investigator: Prof Annis FUNG Lai-chu (Department of Social and Behavioural Science)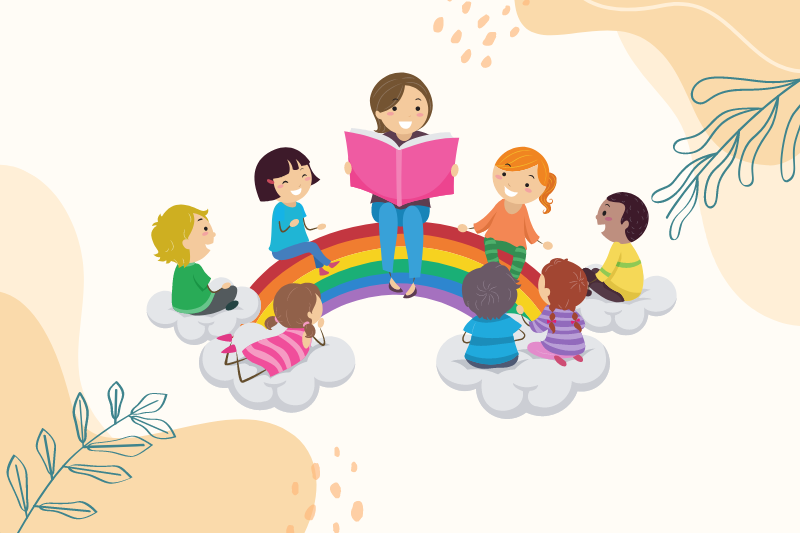 Before children can walk and speak, parents try to introduce the world to them through first-hand experience and also storytelling. Storytelling provides children with a window to new worlds and discoveries. It gives them the opportunity to learn new ideas and information without realising it. Storytelling brings various psychological and educational benefits to young children. Children learn valuable life lessons through listening to an adventure story or a fairy tale. Instead of giving lectures to children to teach them good behaviour and morals, storytelling is a more effective way to instill good deeds in children.
Dr Annis FUNG Lai-chu, Associate Professor of CityU's Department of Social and Behavioural Science, is passionate about researching different approaches for reducing aggressive behaviour and peer victimisation among schoolchildren. She has conducted a first-ever study to investigate the positive impacts of a storytelling intervention based on the social information processing (SIP) model in reducing reactive and proactive aggression among schoolchildren. A total of 4,086 Grade 1 to 4 students from 15 randomly selected elementary schools in Hong Kong participated the research project. Using the Reactive–Proactive Aggression Questionnaire, 371 schoolchildren at risk of aggression were identified based on scores of one standard deviation above the mean and randomly assigned to the experimental, placebo, and control groups.
Given the differences between the two subtypes of aggression, reactive and proactive aggression, interventions should target different stages of cognitive processes to ensure effectiveness in achieving the desired effects on aggressive behaviours. The SIP model suggests that reactive and proactive aggression are associated with different cognitive processes. According to this model, children's processing of social information comprises five steps: encoding social cues, interpreting social cues, accessing and organising a response, evaluating and deciding on the response, and enacting a behaviour. Children with reactive aggression exhibit cognitive distortions in the early stages of information processing, i.e., the encoding and interpretation of social cues. They have bias in selecting the cues, which can lead them to misinterpret others' intentions. Their poor emotional regulation and unskilled social communication also worsen the situation. In contrast, children with proactive aggression accurately perceive others' intentions. Their biases occur in the late stages of SIP. These children evaluate aggression positively and adopt aggressive behaviours instrumentally to obtain the desired outcomes. Hence, storytelling is a feasible approach to cognitive behavioural therapy for children with aggression, as it applies to the first four stages of the SIP model.
This study was conducted in collaboration with a local nongovernmental organisation, Hans Andersen Club, which has been established for over 60 years in Hong Kong. The professional social workers of this organisation were well trained to lead the storytelling intervention based on the SIP model. A 10-session pilot intervention of the experimental group was conducted before the main study. The participants listened to nine stories in the first nine sessions and cultivated the following skills and awareness: For reactive aggression, increased anger control, forgiveness, assertiveness, communication and clarification social skills. For proactive aggression, enhanced empathy competency, perspective-taking ability from the role of victims, and reduced positive expectancy through bullying behaviours. The participants reviewed the nine sessions and summarised their knowledge in the last session.
According to the post-test interview and 6-month follow-up interview with students and caregivers, it showed that the intervention reduced reactive aggression by reducing children's hostile attributional bias, improving anger control, interpersonal communication, and forgiving behaviour. It was found that the empathy of children with proactive aggression was not enhanced, probably because empathy takes much longer time to develop and practice among these children, especially with high levels of proactive aggression. Therefore, intensive and longer treatment on empathy training is recommended in future interventions. Moreover, caregivers were found to have an important influence on young schoolchildren, and it is therefore recommended that future interventions for aggression in this cohort involve their caregivers. The impact of different parental behaviours on children with reactive and proactive aggression is also an important direction for future investigations. The study also found that fairy tales were more useful to arouse children's empathy than other types of stories. Thus, the types of storybooks should be taken into consideration in future storytelling interventions.
Achievement and publication
Fung, LCA, WONG, MK & Fu, L 2023, 'A Qualitative Method to Examine the Positive Impact of a Storytelling Intervention in Reducing Reactive and Proactive Aggression in Young Schoolchildren', Applied Research in Quality of Life. https://doi.org/10.1007/s11482-023-10174-z