Principal investigator: Dr Chris SHEN Fei (Department of Media and Communication)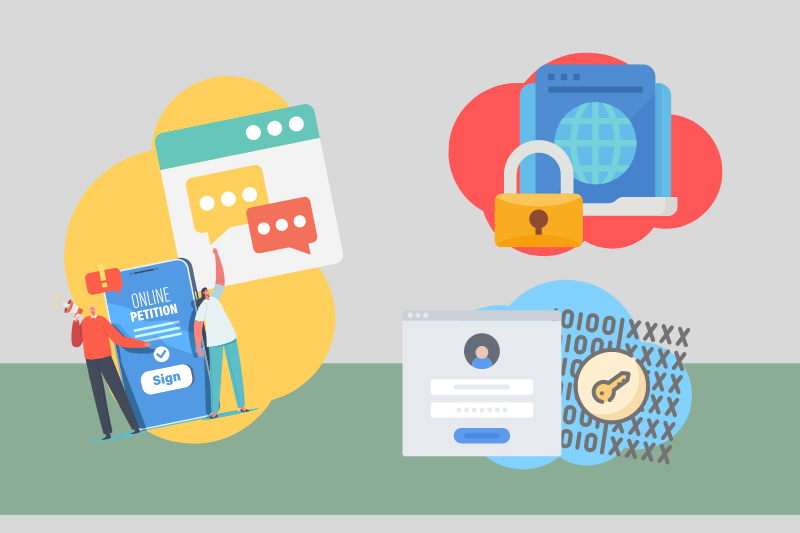 With the proliferation of the Internet, it is now more convenient for the public to access a large variety of political activities, including but not limited to voting, petition signing, and opinion expression. However, online political participation also poses threats to personal data leakage and misuse. Yet, privacy protection in the context of online political participation has rarely been studied. To fill the research gap, Dr Chris SHEN Fei and his doctoral student at CityU's Department of Media and Communication have conducted a research study across 10 Asian cities. The findings are presented in the article The relationship between online political participation and privacy protection: evidence from 10 Asian societies of different levels of cybersecurity, published in Behaviour and Information Technology.
The survey has polled Internet users from Hong Kong, India, Indonesia, Japan, Malaysia, Pakistan, Singapore, South Korea, Thailand, and Vietnam. These places represent a variety of cultural (Confucianism, Buddhism, Muslim, Hinduism, and other cultures) and economic (developed and developing areas) contexts. The levels of Internet freedom and diversity of cybersecurity capacity were also distinct in these places. In total, 6,691 respondents finished the survey and passed the quality check.
Apart from their demographic profiles (gender, age, income, and education), the respondents were asked whether they have taken the nine given strategies, such as using a separate password for sensitive data, reading the privacy policies of websites or services, etc, to protect their online privacy in the past 12 months before completing the survey. Their perceived privacy risk, the extent of online political participation, and their Internet self-efficacy were measured. A global index was used to determine the 10 areas' cybersecurity in terms of legal, technical, organisational, capacity building, and cooperation perspectives. Thailand, Vietnam, Indonesia, and Pakistan were categorised as societies with low cybersecurity capacity, while Hong Kong, Singapore, Korea, Japan, India, and Malaysia were classified as societies with high cybersecurity capacity.
This study found that people who are active in online political participation are aware of the potential risk of privacy disclosure and will take more privacy protection actions. However, the correlation between perceived privacy risk and privacy protection behaviours showed different patterns in countries with high and low levels of cybersecurity. Perceived privacy risk led to privacy protection behaviours in countries with a low level of cybersecurity, but not very much in countries with a safer Internet environment. The researchers questioned whether it was because people from countries with higher levels of cybersecurity perceive less privacy risk, but the data suggested the opposite. That is, the phenomenon of privacy paradox, which was first studied two decades ago and suggested that people are worried about privacy infringement but make little effort to protect their privacy, appears only in societies with a higher level of cybersecurity. People in these places rely on solutions at the societal/national level to ease their risk perception, while those from countries with low cybersecurity capacity tend to rely on themselves to protect their online privacy.
Compared to perceived privacy risk, Internet efficacy is a more robust and stable mediator linking online political participation to privacy protection. In all the surveyed places, regardless of their levels of cybersecurity, online political participation was associated with Internet efficacy, as it involves Internet experiences such as information searching, online communication, and using different websites. It could lead to more privacy protection behaviours, but the magnitude of the effects differ across societies. The researchers speculated that in a country with well-developed policies and technologies for online privacy protection, citizens can better obtain skills and literacy from their online activities. In addition, people from high-security environments are usually better educated about privacy protection, and their knowledge motivates them to prevent themselves from potential risks. In contrast, people living in countries with low cybersecurity capacity are more likely to act in response to perceived risks.
The findings of this study not only shed light on online privacy research but also provide suggestions for government, political parties, and NGOs in terms of guiding citizens to protect their privacy rights.
Achievements and publication
Yu, W., & Shen, F. (2021). The relationship between online political participation and privacy protection: evidence from 10 Asian societies of different levels of cybersecurity. Behaviour and Information Technology. https://doi.org/10.1080/0144929X.2021.1953597