Principal investigator: Dr Crystal JIANG Li (Department of Media and Communication)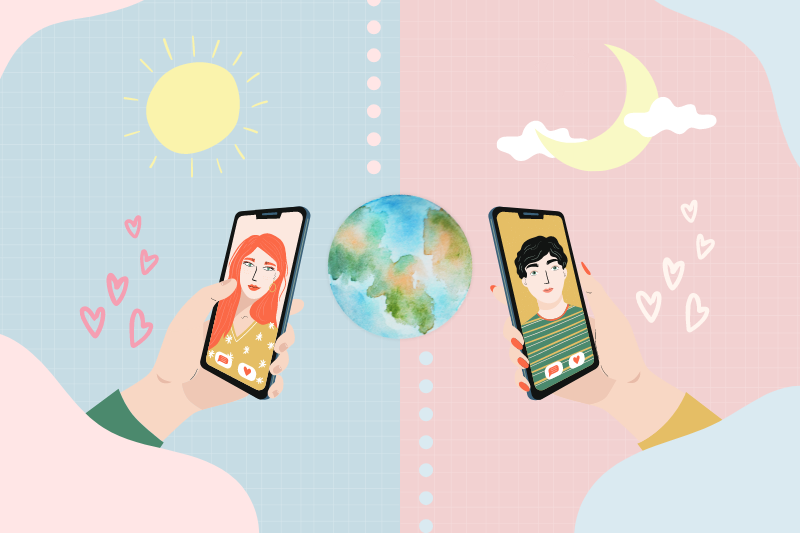 With ballads and movies, pop culture has relentlessly told us that love is never a piece of cake, and people must work at it. Romantic relationships are wondrous but much more so the couples weather challenges and interpersonal differences to rejoice in the ebb and flow of love. As they certainly have enough on their plate, what about adding one more hurdle called "distance"?
Long-distance relationship is prevalent and often comes with the hashtag "difficult". Consequently, communication becomes a deal-breaker for long-distance daters because it seems to be all they have. Not only do the couples tune into the issue, but many researchers also knuckle down to examine the contextual implications. Dr Crystal JIANG Li, Associate Professor of CityU's Department of Media and Communication (COM), recently presented a research report on adaptive communication and perceptions in long-distance dating in the Journal of Social and Personal Relationships this year.
Participants of the study were primarily based in the United States. Sixty-one heterosexual dating couples, whereas almost half were long-distance (LD) couples and the rest were geographically close (GC) couples, were instructed to keep one-week diaries using Viber, an instant messaging application. While the participants used the platform for all text-based communication with their partners, they were asked to complete a daily survey to record their perceptions of the texting process and relationship status for one week. After the week, the couples submitted their chat records which were later coded by research assistants and analysed with a linguistic approach.
Thus, the procedure gathered much data from the self-report exercise, third-party assessments, and linguistic analysis. It also enabled a comparison between LD and GC couples regarding their self-disclosure,self-responsiveness, perceived partner's disclosure and responsiveness, duration of media use, relationship uncertainty, and relationship satisfaction. Dr Jiang adopted the approach other scholars had utilised to investigate the linguistic style matching between the couple. Such measurement of these aspects helped depict the lineament of adaptive communication behaviours and perceptions among LD couples.
Regarding the behavioural discoveries, the analysis showed that LD participants reported higher levels of self-disclosure and self-responsiveness than GC participants. Compared to GC participants, LD participants used more first-person pronouns, insight words, affect words, and sexually-related words and displayed more verbal immediacy in language use. Significantly, LD daters increased their responsiveness by sensitively matching their partners' language to express positive affection while avoiding conflicts by reducing negative matching in their language.
In other words, LD partners are more motivated to be more responsive than GC partners in daily interactions. They unconsciously adapt their responsiveness by synchronising and matching their language in positive interactions. However, when negative interactions arise, they adapt by refraining from matching attacks blow-by-blow. Handling conflicts more strategically, they carefully avoid signalling disengagement and hostility in their language. Meanwhile, GC partners are more likely to match their language in negative interactions. Although it does not insinuate that they are less willing to back down, they have options to communicate and resolve conflicts in person. It then explains why LD daters tend to adapt their language more in conflict resolution.
Apart from adaptive communication, the study revealed some findings concerning perceptual adaption among LD couples. They experienced higher relationship uncertainty than GC participants, leading to larger perceived differences in responsiveness instead of self-disclosure. It was also noted that LD participants' perceived differences in self-disclosure and responsiveness were larger than the GC participants.
According to the study, responsiveness, unlike self-disclosure, is not always unequivocally expressed in daily life, so relationship uncertainty may have a more direct relationship with perceived differences in responsiveness. It is also suggested that adaptive communication in LD relationships nurtures adaptive perceptions about the partner in everyday conversations. With the projection effects, LD partners project their adaption onto their perceptions of partner disclosure and responsiveness. As a result, it cultivates LD participants' larger perceived differences than GCparticipants. For LD relationships, daters usually seek to feel stable and satisfied despite the challenges of geographic separation. The interpretation of partners' disclosure and responsiveness is prone to positive bias, presumably providing relational rewards that outweigh the high investment in relationship maintenance.
As for any relationship, communication always plays an essential role. Beyond the perspective of LD relationships, what insights does this study bring to the GC daters? It unveils some behavioural nuances of relationship maintenance that may backfire on GC couples. For instance, GC daters did not make much effort to adapt their self-disclosure and responsiveness as they believe they can meet and communicate face-to-face anytime. Evidence indicates that face-to-face communication cannot be treated like a silver bullet. As people often phub their partners while interacting with them, such face-to-face communication does not facilitate the bond in a relationship. Moreover, GC daters may focus on pursuing quality companions because the results imply that intimacy builds on positive engagement, which manifests in increased disclosure and responsiveness. The adaptive communication used in LDrelationships also applies to GC relationships.
Achievements and publication
Jiang, L. C. (2022). Adaptive communication and perceptions in long-distance dating: Evidence from self-reported and behavioral data. Journal of Social and Personal Relationships. https://doi.org/10.1177/02654075221092107
This work was supported by City University of Hong Kong and grant no. is 9618020.