Principal investigator: Dr CHAN Siu-ming (Department of Social and Behavioural Sciences)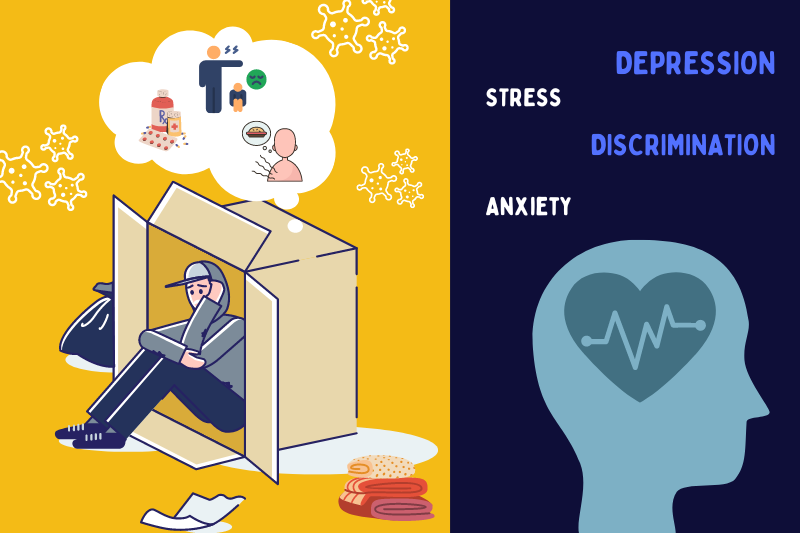 The enormous impact of COVID-19 on public health and society worldwide caused Hong Kong to implement five waves of lockdown between 2020 and 2022. Under the anti-epidemic measures distributed by the government during that period, infected persons and their close contacts were required to undergo home quarantine. However, for homeless people who are not able to implement home isolation, they are more susceptible to get infected with COVID-19 than the general population. What's more, the closure of public facilities, evening dining banned in restaurants, and the disposal of homeless people's personal belongings also increased stress that only worsens their situation.
There is limited research on the homeless people in Hong Kong, with the previous studies generally focusing on finding out the number of people experiencing homelessness and their mental health conditions. And though there is increased concern in this regard, attention to the mental health of homeless people is inadequate. Dr CHAN Siu-ming, Assistant Professor of CityU's Department of Social and Behavioural Sciences conducted a large territory-wide homeless survey in Hong Kong with his research team, aiming to examine the mental health conditions of homeless people and the determinants of mental health problems. The study used the survey data from the project entitled "Hong Kong Homeless Census 2021". It examined the homeless situation and the characteristics of homeless people in Hong Kong. More than 300 volunteers from NGOs, universities, and tertiary institutions joined to be trained as interviewers. The survey covered more than 360 hot spots of homeless people in different districts of Hong Kong. Interviewers talked to 1,103 homeless people and successfully collected 711 valid questionnaires for analysis.
The survey overviews the respondents' demographics, socioeconomic, mental health, subjective well-being, and COVID-19 related worries. The results revealed that the prevalence of depression and anxiety among homeless people was much higher than general population in Hong Kong during COVID-19. It also showed that being female, food insecurity, and chronic diseases were the risk factors for anxiety and depression.
Hong Kong's economy worsened significantly due to the pandemic, by the administrative record from Social Welfare Department, the number of homeless people has increased to 1,580 in 2021, nearly triples the 555 homeless in 2012. The survey results highlight the urgent need for the government to allocate more resources for providing additional mental health services. Currently, the existing homeless services in Hong Kong mainly focus on male users, additional and targeted service is needed for homeless females. Dr Chan also suggests a progressive increase in the supply of public and transitional housing can help relocate the homeless to proper houses to enhance their living condition. Last but not least, the government should not adopt eviction as a measure to solve homeless problems. The government should promote a homeless-friendly and respectful environment with policy support and public education, such as increased support for social work, employment support, and recreational services to help the homeless rebuild self-confidence and discipline to achieve a better life.
In short, the existing homeless policies and services are insufficient to enhance the mental wellness of homeless individuals. Additional efforts and resources must be invested in outreach services, especially mental health promotion and protection. Overall, respect from the public is crucial to the mental health of the homeless people.
Achievement and publication
Chan, S. M., Wong, H., Chen, Y., & Tang, M. Y. V. (2023). Determinants of depression and anxiety in homeless people: A population survey of homeless people in Hong Kong. International Journal of Social Psychiatry. https://doi.org/10.1177/00207640231152208