Principal investigators: Dr CHAN Yuk-wah (Department of Public and International Affairs) & Professor David HAINES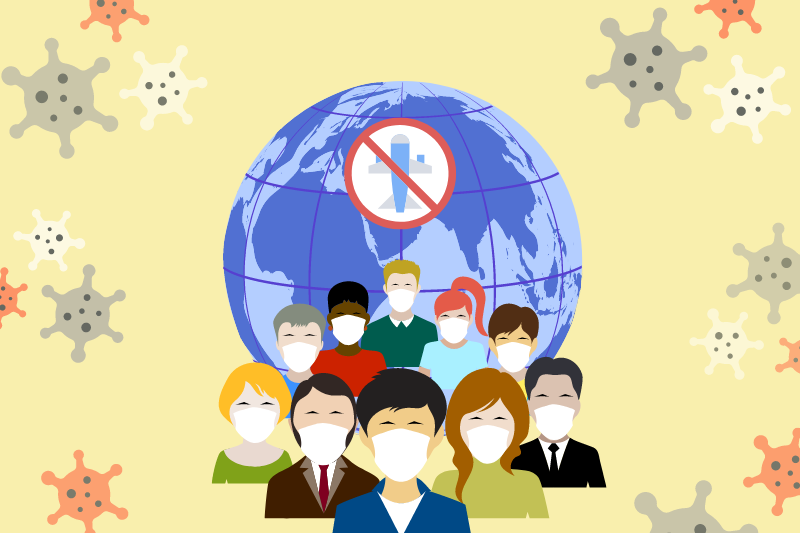 In the past three years, the outbreak of COVID has dramatically changed our lives and relationships. The pandemic has been affecting 229 countries and territories. In addition to local lockdowns and social distancing, international border crossings ground to a near halt as global tourism tumbled.
Despite the fact that countries around the world have been re-opening borders and treating the virus as a seasonal flu, the effect of COVID on people's mobility is worth studying at a deeper level. The pandemic's effect on international mobility can be characterised as a 'diseasescape' where diseases flow across borders just as easily as money, news, people and ideas. Dr CHAN Yuk-wah, Associate Professor of the Department of Public and International Affairs, has just published a research article with her research partner, Professor David HAINES, on examining how the COVID-inflected diseasescape has impacted the dynamic between mobility and immobility, and analysing how the diseasescape continued to evolve with the disease and the policies.
The COVID diseasecape was believed to be formed at a time of much-enhanced human mobility.   One major development was outbound travel from China in the decade after 2010. There were huge increases in world tourism figures before the pandemic outbreak. People move and physically interact with each other, viruses also travel, mutate, and proliferate. The COVID diseasescape has revealed the vulnerabilities of both resourceful developed countries and less resourceful countries in the global South. It also starkly produced different effects on people in different cultures and under different modes of governance.
Dr Chan's research project studied global cases of immobility governance strategies in different stages of the pandemic.  As COVID first spread internationally in early 2020, borders were closed. In Asia, China, Taiwan, Vietnam, Japan, and Macau implemented early border closures, basically forbidding the entry of non-residents. Restrictions in Australia and New Zealand were similarly sharp. The US and Canada also closed borders but with varying severity. The ways to combat COVID within countries mainly aimed at sanitising and separating. However, in early 2021, with the availability of COVID vaccines, the pathways of pandemic management shifted. Countries like the US and the UK, had aimed at vaccines as the primary pandemic management tool. The Western media began to promote the idea of 'living with the virus', as there was no way to fully eradicate it. Asian countries were more cautious to re-opening or demobilisation except Singapore, who was eager to re-open its border for travellers and to resume normal economic activities.
The evolution of the diseasescape with the differential availability of differently effective vaccines led to debilitation along different geography of mobility. The world became mapped according to the COVID-diseasescape, creating distinctions between high-, middle-, and low-risk countries. Low-risk countries could implement restrictive measures against people from higher-risk countries, as well as against those (regardless of what countries they came from) who had less access to medical resources (such as testing and vaccination). The measures of vaccination and negative tests required travellers to have a new form of 'health capital' before they could move across borders. A new enhanced 'mobility hierarchy' emerged as one legacy of COVID. People with money and health capital were winners and those without were losers.
The study also highlights the huge difference in the implementation of pandemic management in the US and mainland China. China was determined to enforce lockdowns and sufficiently resourceful in carrying out compulsory testing; but the extent of control has strained the patience of many both within and outside China. In the US, the emphasis on vaccines was effective in producing a rapid vaccine response but the emphasis on the vaccine doubtless distracted from more routine public health measures like masking and reduced social interaction, resulting in a wider spread of the virus and a higher death toll. What's more, the US government failed to mobilise effectively enough to sufficiently immobilise its population.
In conclusion, with nearly every country severely affected by COVID, the varied policy responses hold up a very large mirror on global governance in a case in which national sovereignty and state power were once again paramount. Although it is too early to confirm whether the 'immobility governance' practiced during the COVID crisis will endure, the experience will help in any new health crises that emerge. COVID has provided a chance to enhance government's control and surveillance of its population. Such increased control will enhance their 'governmobility' in the future; especially with the expectation of other crises to come.
Achievement and publication
Chan, YW & Haines, D 2022, 'Diseasescape and immobility governance: COVID-19 and its aftermaths', Mobilities. https://doi.org/10.1080/17450101.2022.2150560